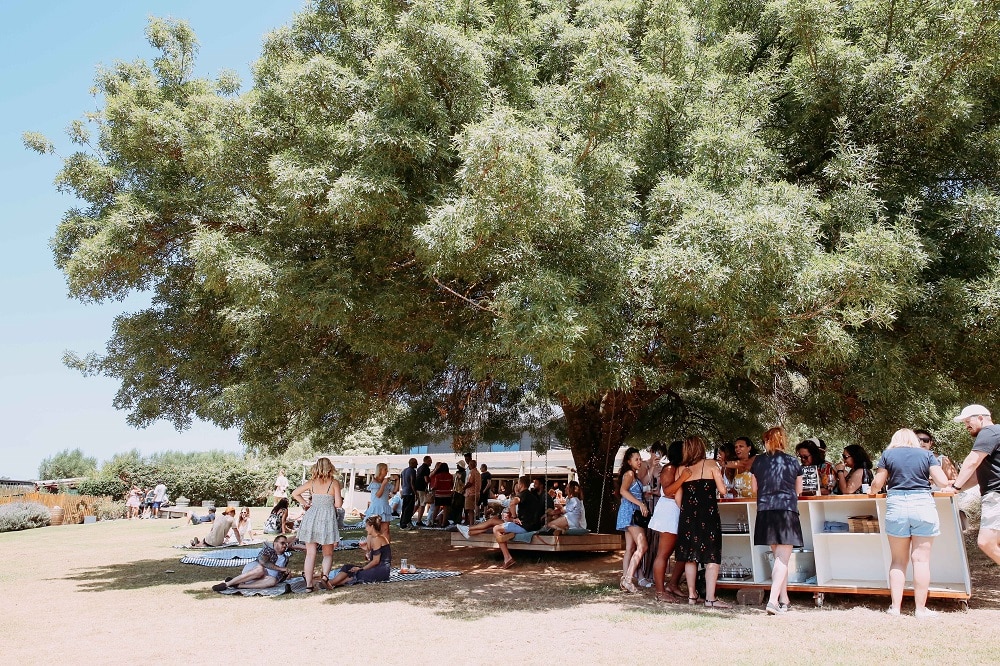 Hello! And welcome to Tucks, our super-friendly fun winery perched high above the idyllic leafy hills and laneways of Mornington Peninsula's Red Hill.
Formerly known as Tucks Ridge, in late 2017 we were bought by the neighbouring crew at Montalto. Since then, we've been developing a reputation as a winery that's more than a little bit different.
Yes, we take our winemaking VERY seriously (just ask our multi-award winning team!), but we reckon that wine tasting is a different beast entirely.
Wine tasting should be fun. It should be exciting, thrilling, an exploration of your tastebuds and senses. It should challenge you, surprise you and, most of all, it should bring a big fat smile to your dial.
As there's not much obvious fun to be had in the old-school cellar door approach, we decided to flip it all on its head and do our own thing. So, at Tucks we offer you a choice of wine tasting station to suit your mood: under the infamous Tucks Tree overlooking jaw-dropping views; sequestered in our bright and breezy wine store; or out back on our cute-as-a-button deck.
And, to shake things up even more, we broke with convention to only offer blind wine tastings. Yep, you're invited to sniff and slurp your way through our wines without knowing what you're glugging. Keep track of your reactions by scribbling notes on our wipe-down benches (you'll find it feels deliciously naughty to write on the table), and we'll reveal the wines at the end of your session. We reckon doing this makes you think more deeply about the wine, does away with preconceptions and makes things a whole lot more funner.
Wine tasting isn't the only thing we try to think about differently. What we eat when we drink has a dramatic effect on how wine tastes. So, our kitchen and wine team work together to create a menu of small and large plates that really sing with a glass of vino. Inspired by the very best dishes from across the globe, we reckon they're the perfect wine food.
Sit at the communal tables overlooking our spectacular estate, chillout on the lawn with our complimentary picnic rugs, and relax into an effortless afternoon of grazing through our substantial menu.
Bring an open heart, an open mind and, most importantly, an open mouth.
We'll see you soon!